Description
ADVANCED INTELLIGENCE
COLOR X-RAY VISION GLASSES
X-Ray Vision In Color
No other Xray vision technology will match SuperThru TM Technology
Our Xray vision glasses uses infrared technology which is completely safe to use.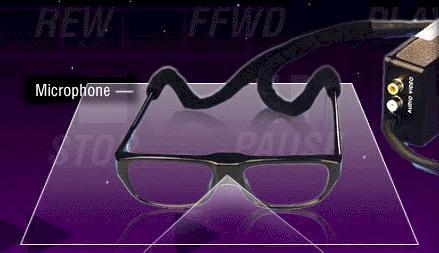 Sit and watch while recording.
Image will turn to show how the unit can be body worn.
Introducing The X-Reflect X-ray Vision Glasses TM.
THE WORLD'S FIRST X-RAY VISION GLASSES!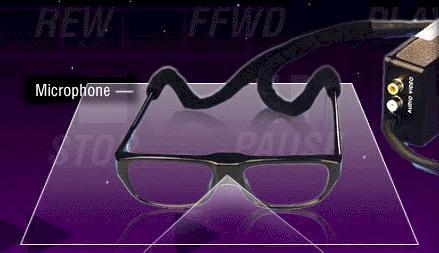 C

O

L

O

R

 XRAY GLASSES VISION WITH AUDIO!
Features
See through

 

some type of clothing material (mostly swimwear and many types of synthetic materials)

See through most dark windows even  through dark sunglasses

Works indoors or outdoors

Can be used in low or bright sunlight

Exposure is automatically adjusted therefore the video is never over or under exposed. Get perfect recording everytime!

Portable Digital Video Recorder included with purchase

 

for portable COLOR Xray Vision recording.  Records in MPEG 4 format.

This

 

Palm Size Portable DVR

 has a built in 3.5″ TFT LCD screen.  Monitor your 

C

O

L

O

R

Xray Glasses recordings in real time or instantly play back recorded Xray movies on its built in

C

O

L

O

R

 screen.

Built in 32GB hard drive.  Includes USB connector which allows you to save the recorded file on to your PC.

470 Lines of resolution

Built in micro IR. chips

Built in IR. pass filters

Light weight

1 year warranty

C

O

L

O

R

 X-RAY VISION
Palm Size Portable DVR (included with purchase)
THE X-REFLECT X-RAY GLASSES TM
Welcome to the Home X-Reflect X-ray Glasses the Glasses that can see through clothes.
Undetectable X-ray Glasses that you can be very comfortable using.
C

O

L

O

R

X-RAY Vision Glasses,
See through clothes.
These Xray Glasses can see through some type of materials making it possible to see through clothes that in the same condition cannot be seen by the naked eye.
The theory behind it is simple. Under normal light, the visible and infrared lights can pass through some type of material covering an object and are reflected by the object's surface.
The reflected visible light is too strong and saturated to see.
Therefore the covered object surface can not be visible using naked eyes.
However, if the reflected visible light is filtered out and only the reflected infrared and the required light is captured using special made sensitive cameras inside the Glasses, the covered object surface will be visible.
Some materials completely blocks the naked eye from seeing through it.
But with these Xray Glasses , you can see through it.
With your purchase. We will include a piece of clothing material that you can test the X-RAY VISION capabilities for yourself without having to go out doors to test it in public.
We guarantee that it will see through many types of clothes or materials that the naked eye cannot see through at all
We have even tested it through 2 layers of clothing material and it still sees through it easily.
Materials we have tested it on cannot be seen through by the naked eye, we folded the materials up in to 2 folds and the Xray Glasses still sees through them
The quality of the x-ray vision will be definite not vague
The picture seen will be in color.
The Glasses comes complete with cables which plugs into the Palm Size Portable DVR.
Battery pack included for portable operations.
The picture from the Glasses produces 470 lines of resolution, with 60 degrees field of view.
Plug and Play.
All you need to do is insert the batteries and put on your Glasses .
Plugs right into the Palm Size Portable DVR. for portable and concealed see through operations.
We will ship the product in a discrete package.
We guarantee delivery.
Frequently asked questions.
Q. Is it safe to use?
A. Our Xray Glasses are guarantee to be 100% safe to use. Unlike some inexpensive technology.
Q. What is the quality of the picture?
A. The quality of the picture is excellent, we will say camcorder quality or Handycam quality . You can use it as a regular surveillance camera as well as using it in seeing through some types of materials, clothing materials or even dark windows or dark sunglasses.
Q. Do I need any additional type of filter to see through some type of materials?
A. No, not at all, the camera built into these Glasses is fully equipped with special filters and micro IR chips.
Q. What kind of warranty do you have?
A. We have a 1 year warranty.
Q. After I receive the product how do I know that it can see through some materials without having to go out and test it in public like the beach or swimming pool area.
A. Along with your purchase, we provide you with testing materials (actual clothing materials) that will prove the product's performance in seeing through some type of clothing materials, so you can make sure it works before you go out and test it at the beach or swimming pool area .
Q. How can I do portable recording outdoor?
A. Included with your purchase is a Palm Size Portable DVR for indoor or outdoor portable recording.
Q. Is the picture result color or is it black and white?
A. It is in color with an amazing 470 lines of resolution.
Q. How long does the battery last?
A. Up to about 5 hours.
Q. When you say see through, do you mean seeing just the outline of the object or actually seeing the object inside the material?
A. It does actually see the object not just the outline of the covered object.
Q. Why is that the Glasses can see through some types of material better than others?
A. Some type of materials nowadays, uses UV pass color to dye the materials in order for people to get sun tan without lines. Some of the color is not only UV pass but also are IR. pass! making it possible for the Glasses to see through it like glass.
Q. If the materials are UV pass, why not use UV pass filters instead of IR. pass filters?
A. The Glasses can see IR. a lot better than it can see UV.
Q. What type of materials actually does theses Glasses see through?
A. Swimwear, Silk, and all types of synthetic materials are the best candidate.
In USA (summer time) in public areas, do expect about 1 out of 20 for normal clothing.
For swimwear, do expect approximately 70 out of 100 .
Approximately 45% of swimwear allow see through as though seeing through glass.
Q. Is the X-ray from the glasses harmful?
A. Not at all! The glasses itself does not emit any kind of radiation like usual x-ray technology instead our glasses use special light filter that can see certain wavelength of light that can penetrate through certain type of clothing and some other materials.
Q. I would like to see some sample images.
A. Click here to see some samples
Q. Why should I use the Glasses type for see through operations?
A. You will find out that it will be very comfortable for you to use.
You can sit, stand, walk, do anything that you would like and see what is actually being recorded while wearing these X-REFLECT XRAY GLASSES.  Its a great feeling being totally undetectable.
X-REFLECT TM
SOLID STATE OF THE ART X-REFLECT X-RAY GLASSES
COLOR XRAY VISION WITH AUDIO!
Palm Size Portable DVR (included with purchase)
We make shipments world wide
PRICE $ 1220
Wireless Xray Glasses version available (without cables to the DVR)